Are you doing this in your marriage?
Monica, at http://www.theatypicalhousewife.com/2012/01/reasons.html is doing this challenge. I have decided to join her. I will be posting on this weekly.

I'm challenging myself, and anyone else who would like to participate in joining in on my "365 Reasons I Love My Husband." No, you don't have to blog all 365 reasons at once! You can include a reason a day, do a blog post a week, or one big one once a month. I'm going to be doing one post a week, that will list out 7 things I love about my husband. Each week I'll be adding a linky tool, so that way you can link up your post, so myself and others, can stop by and check it out! I hope this challenges you, to focus on the good things about your husband, instead of lingering on the few faults, he may have. Well, what are we waiting for? Here are my first 7 things...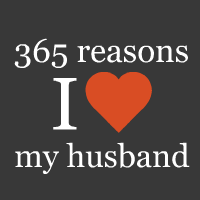 1)I love the way he loves me, just the way I am. 2) I love the way he takes our marriage vows seriously, especially the one that says, in sickness, and in health. 3) I love how he constantly tells me he loves me. 4) I love how gently he holds me in his strong arms. 5) I love how he is not afraid to cry, that is a real man. 6) I love how he watches over me. 7) I love how he is always willing to help me around the house.