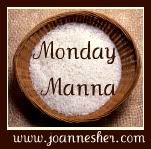 But Mary kept all these things, and pondered them in her heart.
Mary, the mother of Jesus, treasured the words of God that came to her through the conversations, and events of her daily life. Luke tells us, that after the visit of the shepherds sent to adore the newborn child by the angelic choir, "Mary kept all these things, reflecting on them in her heart" (Luke 2:19; see also Luke 2:51). Through long years of pondering God's word, and cherishing the memory of these mysterious events in her heart, Mary penetrated the truths they held, and her understanding of them grew.
I often picture Mary carrying, and guarding, these mysteries in her heart, turning the words and truths over in her mind, as if holding a precious jewel in hand, and turning it over and over, letting the light play on every facet. This is a vivid image, of what it means to meditate.
The idea of meditating may scare some of us away. Isn't that meant for contemplatives, who spend long hours in prayer? Yet meditation on what God has said, and done, should be the business of every Christian.